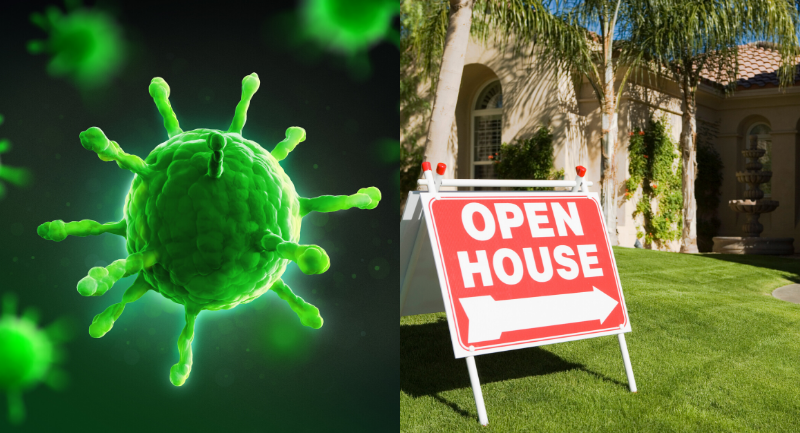 The Washington, DC real estate market is strong, with home sales and prices near all-time highs. The recent Coronavirus (COVID-19) outbreak may accelerate certain aspects of the Spring 2020 home buying season, but its long term impact is less predictable.
March 16th Update
The Federal Reserve Bank cut the benchmark federal funds rate to near zero % during an emergency meeting on Sunday afternoon. This move was meant to stimulate the economy in the wake of the Coronavirus outbreak. Though mortgage interest rates generally follow the fed funds rate, don't expect to see 0% mortgages anytime soon. Some banks even raised interest rates last week to cope with a boom in refinancing requests from customers.
In its latest mortgage market survey, lender Freddie Mac found the average mortgage rate at 3.36% last week. While that is still an extraordinary bargain, it is a tick higher than the 3.29% it found two weeks ago.
Uncertain Outlook
First and foremost, I want to acknowledge the many families around the country and the world who have been affected by this brutal disease. I also want to thank the many brave health care providers who have risked their lives to care for their patients and protect the community in the face of uncertainty.
The Coronavirus effect has already had a major impact on our economy. Wall Street has entered a period of extreme volatility, with stock market indexes tumbling 12% last week as investors tried to figure out how much the quarantined Chinese economy will affect the rest of the world going forward.
Last week's stock selloff sent investors scrambling in search of a safer assets to buy. On Tuesday afternoon, the yield on the 10-year U.S. Treasury note fell below 1% for the first time ever. Mortgage interest rates usually track the yield on the 10-year Treasury note. The slide in the market pushed mortgage interest rates down to the lowest levels in the history of the housing market.
Lawrence Yun, chief economist at the National Association of REALTORS® wrote:
The coronavirus has quickly upended globe economic expansion and introduced the significant uncertainty of a possible recession. (Tuesday's) interest rate cut is therefore an appropriate response to changing events. The real estate sector will hold up very well because of the rate cut. Hesitant home buyers will be enticed to take advantage of low interest rates.
On the other hand, realtor.com® Chief Economist Danielle Hale said, "We may see a bit of a boost in home sales in the short term, but it's possible we could see sales slow down later in the spring. At the very least, the Coronavirus could cause some people to put home sales on hold."
Open House Foot Traffic
Open House foot traffic has a strong correlation with future contracts and home sales, so it can be viewed as a peek ahead at sales trends two to three months into the future.
According to a report from the National Association of Realtors, Home viewings increased in January as strong job growth and low mortgagee rates continued to drive the demand for housing. Since the Coronavirus outbreak didn't hit the news until late February, we won't begin to see whether the virus makes an impact on home buyer demand until the next two reports are released. Locally, agents that I work with have not witnessed any change in home buyer behavior yet. I will be sure to keep an eye on that sentiment and report back on Open House Traffic index in future updates.
The Difference 1% in Interest Rates Can Have
As mentioned above, the drop in mortgage interest rates may be one of the biggest short-term impacts of the Coronavirus crisis. But instead of looking at rate charts, let's take a more practical view of the effect the dip in mortgage interest rates can have on a DC family's buying power.
This time last year, the average rate for a 30-year fixed-rate mortgage was around 4.5%. In today's real estate market, that could have bought a typical DC home shopper and her family a home like this:
Semi-Detached home in the Fairlawn neighborhood of SE DC
List Price: $567,000
3 Bedrooms
2 Total Bathrooms
1,080 sq. ft.
Today, I am seeing rates as low as 3.375%. At that rate, the same family could purchase this home for the same monthly mortgage payment:
Single Family Detached Home in the Asheford Court neighborhood
List Price: $654,900
4 Bedrooms
4 Total Bathrooms
2,986 sq. ft.
That's an extra $88,000 in buying power! It could be the difference between the blocks or neighborhoods you can choose from, the public schools your children attend or whether you can buy a detached home or not. One year and 1% can make a tremendous difference in Washington, DC.
Bottom Line
The full impact of the Coronavirus is still not yet known. It is in times like these that working with an informed and educated real estate professional can make all the difference in the world. Depending on your financial situation, this may be the time to hunker down to wait out the storm. Or, it could be the opportunity to make the deal of a lifetime.
Everyone's tolerance for risk is different. Whether you're thinking about buying your first home, your dream home or simply need to refinance, everyone should take some time to think about this moment. Talk to your real estate and mortgage advisors. If you need assistance, let's get together and talk about your situation.
Jennell Alexander

Keller Williams Capital Properties 202-717-2276

Contact Me

You Can Also Visit Us At: