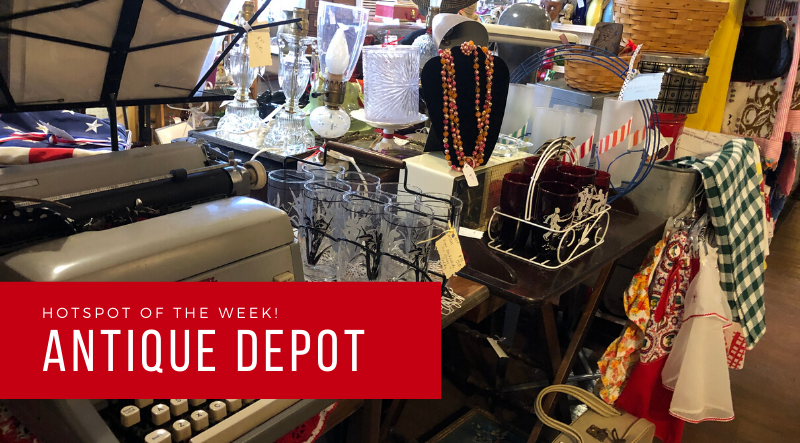 Realtor Jennell Alexander walks you through town and introduces you to the small business owners of the city. Washington boasts many vibrant business districts lined with local businesses. Neighborhoods all over the region have many hidden gems to offer.
Read on to learn more about Antique Depot…
A Shopping Day Trip
My family's LEGO robotics hobby requires that we collect a lot of plastic bricks. No matter how many we have, we always seem to need more. By chance we were in Howard County, Maryland this weekend and decided to take a detour to a speciality LEGO shop that we had heard about. This little side trip brought us to Ellicott City, a national historic district located west of Baltimore.
After taking in the beautiful scenery, including the historic B&O Train Station built along the banks of the Patapsco River, we set out in search of the shop. It turns out that the store is located inside a large antique mall called, appropriately, The Antique Depot.
The Antique Depot is an antiques, vintage, and collectibles mall housing about 70 different small businesses. The building was constructed in 1873 and formerly hosted a livery stable and a hardware store. Now it hosts four floors of collectibles of all types.
Inside you can find everything from antique jewelry, tools, home decor, clothing, electronics, glassware, vinyl records and, of course LEGOS! The shopkeepers are friendly and helpful. Thankfully, there is a single point of sale; once you've found your items you bring them to the front cash register. Credit cards are accepted.
If there is an organizational pattern, we were not able to discern it. We were only able to find the LEGO shop because someone had helpfully stamped a breadcrumb trail along the floor to lead customers to the the display. The shop itself has a variety of LEGO kits, individual pieces for sale and a "surplus" bin of LEGO parts where you can "fill a cup" or "fill a bucket" with pieces for $5 – $8.

Bottom Line
Old Ellicott City makes a wonderful day trip from DC and a visit to that bucolic scene would not be complete without exploring Antique Depot. If you are a serious shopper I think it would take several hours to peruse this place. Whether you're looking for one last piece to finish your collection or you just enjoy the thrill of the shopping chase, this huge antique mall has got you covered.
Learn more about Antique Depot here:
Antique Depot
3720 Maryland Avenue Ellicott City, MD 21043 • 410-750-2674
antique-depot-ec.com
Hours:
Daily:
10:30 AM – 6:00 PM
If you want to learn more about living and working in Washington, DC, visit LoveLivingDC.com for more inside looks at our local businesses from your neighborhood expert, Realtor Jennell Alexander.