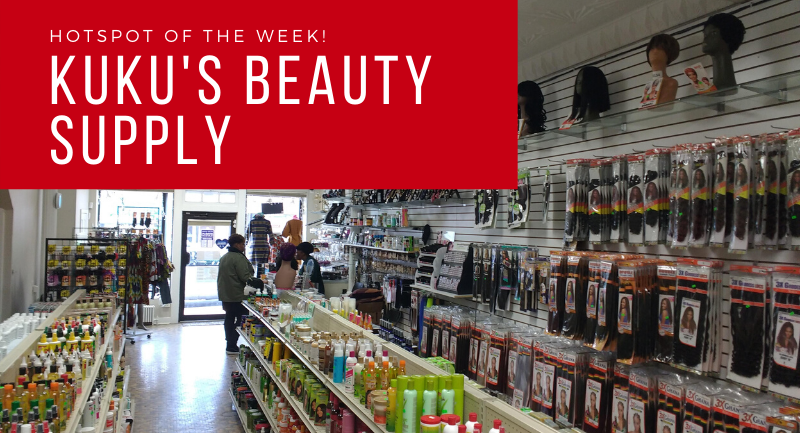 Realtor Jennell Alexander walks you through town and introduce you to the small business owners of the city. Washington boasts many vibrant business districts lined with local businesses. Neighborhoods from Uptown to Anacostia have many hidden gems to offer.
Read on to learn more about Kuku's Beauty Supply…
Kuku's Beauty Supply offers a diverse line of products and services, ranging hair products and cosmetics to shoes, jewelry and clothing.
Owner Kuku Smith is proud to offer both name-band products and formulas of her own creation to serve the needs of her clientele. Black women, in particular, struggled for many years with cosmetic and hair products that weren't suited for them. Entrepreneurs like Ms. Smith have stepped into the gap to offer solutions that work with every hair style and skin complexion.
The shop is bright and attractive. It has everything you need to put the finishing touches on that special look. My husband Christopher stopped by this weekend to pick up some hair products for our children. He found Ms. Smith to be knowledgeable, friendly and helpful. The prices were good too.

The full line of products also includes full wigs, crochet braids, food spices, lotions, perfumes and hair accessories.
Whether you need to stock up on hair supplies for the family or you want a custom makeup application for a special occasion, Kuku's has it all. It is a welcome addition to our Upper Georgia Avenue business corridor. Stop by and check it out.
Learn more about The Kuku's Nest here:
Kuku's Beauty Supply – Makeup & Nail Spa
7327 Georgia Avenue NW Washington, DC • 202-248-0343
thekukusnest.com
If you want to learn more about living and working in Washington, DC, visit LoveLivingDC.com for more inside looks at our local businesses from your neighborhood expert, Realtor Jennell Alexander.