After years of unprecedented growth in home prices and sales, several suburban Maryland counties are beginning to show the first signs of a cooling off period. Montgomery and Prince Georges Counties have been leading the rise in the state's real estate market for years. This robust activity has driven the number of homes available for sale to historic lows. Is that trend continuing or is there a change in the winds?
Montgomery and Prince George's County Data
The June sales data shows that, indeed, there has been a bit of a slowdown in the suburban areas. Inventory in June and in May is up over prior years, to 2.6 months. This is the first year-over-year increase in this number since 2015.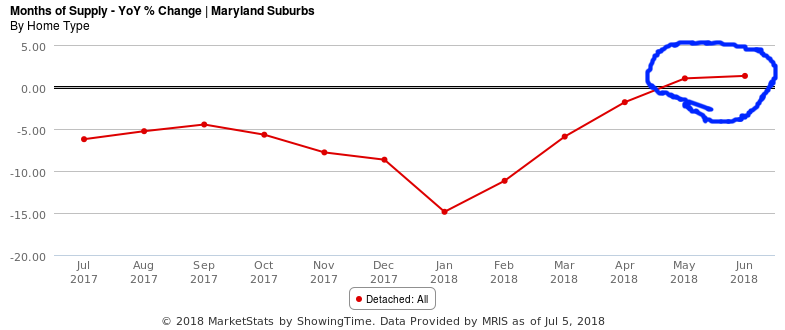 True, that number is still extremely low. Most real estate agents would consider a market to be balanced if there were a six-month supply of homes for sale. However, it is notable that this is the first time since May of 2015 that this number has been in the positive, breaking a 37-month streak!
What about the District of Columbia?
With an exploding restaurant and nightlife scene and a shift away from driving personal cars, the city's real estate market has been scorching hot for many years. One might wonder if the same effect we see in the suburbs is taking hold across the border in the District. Let's take a look.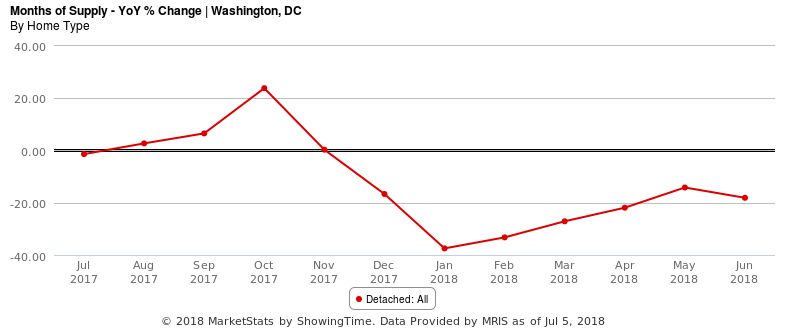 A quick peek at the single-family June sales data shows that prospective home sellers in the District shouldn't have concerns. Despite higher interest rates and sky-high prices, buyers are still pouring into the city, even driving the supply of homes for sale down 18% below last's year level to an incredible 2.12 months.
The Bottom Line
It is still way too early to call anything that we see here a trend. Still, every market shift begins at an inflection point. I held an open house in the Prince George's County on Sunday and had 17 families visit. Buyer traffic is still strong, but the change in inventory levels is something worth taking note of.
If you are thinking about selling a home soon, I would be happy to assist you. One of the most important parts of my job is helping clients understand today's real estate values when setting the price on a listing. Turning data into information you can use can save you thousands of dollars on a transaction and help you achieve your goals faster. Call me at 202.717.2276 to get started today.