As a Realtor®, I often meet homeowners who rent out a house or an English basement to earn some extra money. While that is often a wise financial decision, in some cases it carries a hidden risk. Washington, D.C. is known as one of the most tenant-friendly jurisdictions in the country. One of the key features of that generosity is known as The Tenant Opportunity to Purchase Act (TOPA).
TOPA Background
The TOPA law has been on the books for 38 years and provided tenants of all rental properties a right-of-first-refusal when an owner wished to sell, demolish or discontinue housing use of a rental unit.
As time went on, the law became increasingly controversial. You see, in addition to giving tenants the right-of-first-refusal and a lengthy period to secure financing (up to a year), it allowed tenants to assign those rights to a third party and be financially compensated for it. It became common to see cases where tenants who had no intention of buying a home hold out for payments of $5,000, $10,000, or even $100,000 from the homeowner! To make matters worse, a person didn't even have to be on the lease to receive those rights…they just had to have lived in the home at some point.
What began as a well-meaning provision to protect tenants turned into a mountain of mischief. The stories of elderly homeowners being driven into bankruptcy by manipulative tenants and their enablers were heartbreaking.
A New Approach
In April of 2018, the D.C. City Council passed the TOPA Single-Family Home Exemption Act. This amendment exempts all single-family dwellings from the requirements of TOPA. Rental units occupied by elderly or disabled tenants may still be subject to certain provisions of TOPA for a limited time.
On July 25th, the DC Office of the Tenant Advocate held special training for Realtors®, title officers and other real estate professionals to learn about many aspects of the new law. I am sharing what I learned to help others gain an understanding of this complex new system.
Who Is Covered by the New Law?
The new law applies to tenants who live in "single-family accommodations"; a house, rowhouse or a single condo unit in a building. Accessory dwellings such as English basements and carriage houses are also covered. Tenants in multi-family buildings (i.e. apartments) are still protected by the original TOPA provisions.
Tenants in single-family accommodations must meet all three of the following requirements to be eligible for TOPA:
They must be elderly (62 years of age or older) or have a disability,

They must have signed a written lease on or before March 31, 2018; AND

They must have moved into the unit on or before April 15, 2018
If tenants do not meet all three qualifications, they have no further TOPA rights. However, they are still entitled to all other protections under DC law (Rental Housing Act of 1985).
My Tenants are Covered. What's Next?
If you are a landlord and your tenants meet the requirements above, there is a notification process that you must complete. Fortunately, the sequence is must shorter than the old law. The following infographic explains the new timeline and the actions that you must take as a landlord: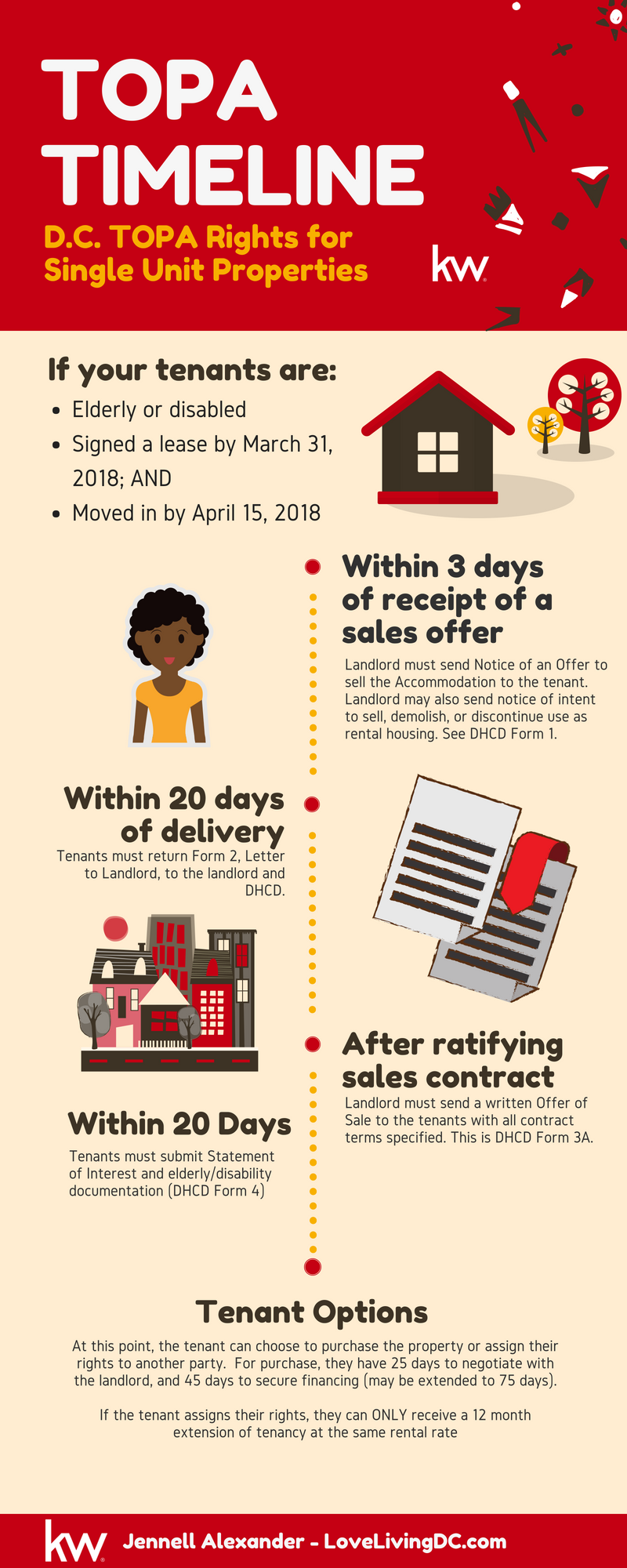 If you are an owner of a rental single-family dwelling in the District of Columbia and you are considering selling your property, give me a call and let's talk about what options the new law may afford you. Tenants still have very strong rights and protections in the city, so any transaction must be handled with care. Reach me today at LoveLivingDC.com.